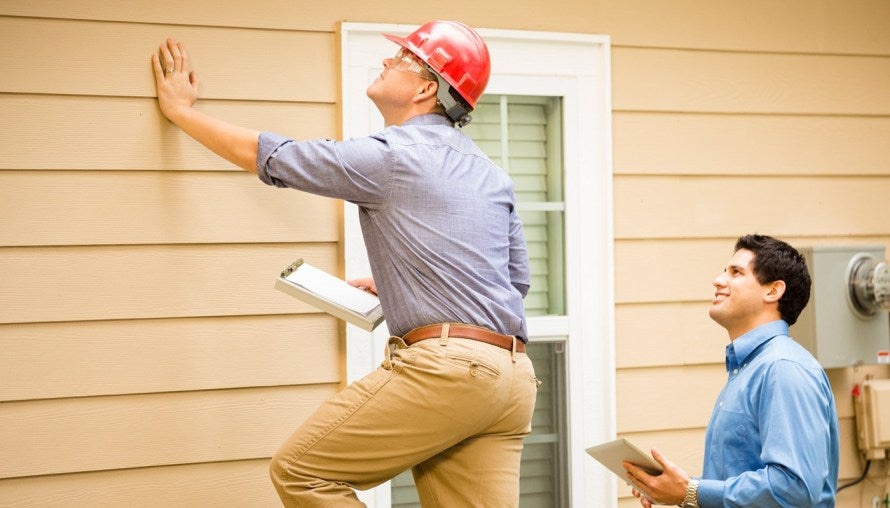 A great article about the importance of having a building inspection, one of the most important conditions to include in any offer to purchase and one that I always strongly recommend to my Buyers.
Once you've secured your dream home with an accepted offer and have your financing in place, things start to get exciting. However, even if the property looks great, the only way to be sure everything checks out is to hire a professional home inspector.
Home inspections can teach you so much about your new house, including how to maintain it and which repairs need to be carried out now or in the near future. Inspectors can also help uncover a property's mysteries or even find nasty surprises you'll want to know about – and possibly renegotiate on – before the seller's hand over the keys.
Don't skip this essential step
We get it – in red-hot markets like Toronto and Vancouver where multiple bidding situations are common, sellers may prefer dealing with buyers who have no conditions attached to their offer, including not insisting on a home inspection. However, foregoing an inspection is a bad idea, says Carol Mose, a home inspector at Mose Home Inspection Services in Montreal.
"If there's ever an issue with the house that you want to go back to the seller about, you haven't done your due diligence and you're not covered," says Mose.
Home inspectors assess a property's main systems and check that the structure is sturdy, safe and to code. They can also alert you about repairs or deficiencies.
"We're there to give a fair assessment of the building and, if we see something serious, we tell the buyer to get it looked into further or to obtain a quote for the repairs," says Mose.
A home inspection for a three-bedroom home typically takes about three hours to complete. Mose suggests booking as early as you can as most inspectors are especially busy now that stay-at-home measures due to COVID-19 are slowly being lifted in some places.
It's a great chance to learn about your new house
Homeowners should accompany the inspector during the process, rather than wait for a written report, notes Mose.
"Most people know little about the inner workings of the house they're buying, so it's also like getting an instruction manual to your house," she explains.
"I'll show homeowners where and how to turn off the water in an emergency, show them the electrical panel and teach them how the air exchange system works and when to use it. When on site, homeowners absorb all the information and, by the time we're finished the inspection, they really do understand what's going on so they can put the final report into context."
Inspectors can discover DIY projects gone wrong
Scroll through social media and it's not hard to find examples of improvised repairs, such as DIY decks being held up with a single post, electrical configurations that can lead to fire hazards, or ill-conceived ideas where someone cut out part of a supporting floor joist to get more headroom in the basement. Inspectors see it all and will advise you what needs fixing.
"The other day, a homeowner declared they had fixed their leaking chimney, but when I went up, I saw that it was sealed with duct tape. You can't repair a leaking chimney flashing by wrapping it with tape," says Mose. "I've also seen terrible plumbing connections with duct tape."
A home inspection may uncover unwanted roommates
Early in her career, Mose earned a nickname that perfectly describes her job.
"A client called me the "Crawlspace Ninja" because I'd go where no one else would go," says Mose. In her 10 years looking into every nook and cranny of houses, Mose has seen evidence that a property has mice, insects or even rats who aren't paying their fair share of the mortgage.
"Often, while crawling over mounds of dirt under a house, I'll see holes that then collapse, which means there are probably rats under there with their own little colonies," she explains.
The last thing you want in your new home is a wasp's nest or raccoons in the attic, bats in the walls or carpenter ants chewing your wood framing. An inspector takes a close look for signs of trouble and can help provide peace of mind.
Even new or nearly-new properties should be inspected
Mose also suggests arranging a pre-delivery inspection if you're purchasing a brand-new house. This step is conducted with the builder before you take possession of your home, where you walk through the property and verify that all work has been completed.
"We make sure all the t's are crossed and the i's are dotted, because I always find something," she says. "For example, I recently inspected a brand-new condo and found a leaking shower connection – not just the shower head, but the actual plumbing connection – plus there was a loose drain, both of which could potentially lead to bigger problems down the road."
Another inspection for a couple who would be the second owners of a property revealed the attic had no insulation; the builder had probably forgotten to put it in.
"It's always safer to get an inspection," notes Mose.
Your REALTOR®  - 
lbarkman@remax-whistler.com
can also connect you with a reputable home inspector who knows your neighbourhood. You'll never regret getting that final once-over by a professional.