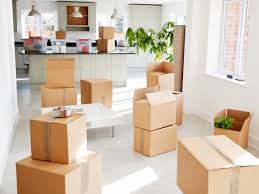 Moving is often the right choice - especially if you're in need of a fresh start, and who isn't looking forward to a fresh start in 2021!  It's hard to truly know if moving is the right decision at any time, but here are five of the most common signs that it might be a good idea.
It's the Best Financial Decision
When your financial situation has changed for the better or the worse, a move might be the next necessary step for you.
Your Monthly Payments Are Tight
If you're finding that your current income can't support your housing and living costs, or you could see it being a problem in the future, consider a move that will put you in a more comfortable position financially. You have plenty of options you can explore.  Or, you can consider moving into a new city that has more affordable housing or cuts down on your transportation costs.  Either way, if your budget is tight, making a move sooner than later is a good idea. Moving to a home that aligns with your budget will help you avoid debt and can reduce financial stress in your life.
Your Income has Increased
Conversely, if you've found that your pay has increased and you have significant disposable income, a move can be a smart choice. If you're currently renting, consider entering the market and purchasing your first home. If you're already a homeowner, you can look at upgrading to a larger home, or shopping for a home in a more desirable area.
Upgrading your home can be a smart financial move that will help you build wealth. The Canadian housing market has seen relatively steady growth for the past 17 years, and investing in the housing market can help you build wealth over the long-term. 
The Space You're In Doesn't Fit Your Needs
As life progresses, our spatial needs can change. 2020 has shown this to us in epic proportions. If you've been looking around your house and reconsidering its spacing, it might be time to switch to a home size that fits your lifestyle better.
Increasing Space
A growing family may find that they need more rooms and more space to live comfortably. Often, a "starter" home will become too small for your needs in just a few years. You start to accumulate items - such as sports gear, bikes, decorations, gifts – and find you can't store them anymore without feeling cluttered. A new home can offer you more rooms, a backyard, a larger kitchen, office space to work remotely.
Downsizing
On the other hand, parents whose children have all grown up may find the upkeep of a large home too stressful. When you downsize, you also reduce your household up keeping responsibilities and allow yourself time to focus on hobbies instead. 
You're Ready for a Change
The right kind of change can bring excitement to our lives. Moving allows you to consider many new possibilities. You can move to a new neighbourhood or city or change from an apartment to a townhouse. Maybe you can finally get a pet if you move out of your no-pet strata or no-pet rental. Or, perhaps you've always wanted to buy a fixer-upper and get your hands dirty turning it into your dream home, or live closer to the water so you can go sailing on weekends. The possibilities are endless.
You Have a Different Commute
When people buy homes, one of the things they consider most in the purchasing decision is their commute time to work. The workforce has changed dramatically this past year, with more companies allowing employees to work from home either a few days a week or full-time. Your new commute (or lack of commute) can completely change your desired location. For some people, remote work will finally be an opportunity to move outside of the city and get more space in the suburbs, which is just one of many potential market shifts we could see in a post-COVID-19 world. For others, this might be the perfect time to move to another city or province entirely.
You've Been Thinking About It (A Lot)
If you've had moving on your mind for a while, it's likely for a reason. The desire to move can present itself in many ways. You could continuously be looking at interior design concepts and furniture even though you do not need to update your current space, or you could be looking at listings on
REW
all the time to gather a sense of how hot the market is.
If you notice yourself indulging the idea of a move, listen to your instincts and run the numbers. Start the process by calling a Realtor in the area of your interest.