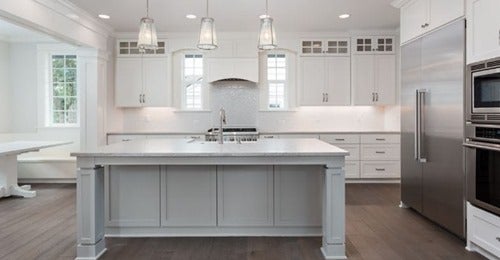 There is so much discussion these days about having a new listing "Staged" to sell and yes, it does help with the sale and most always means an increase in the sale price.  Also to be considered are some small renovations that will not only give you a good return on your investment, but will send the message that the property has been well cared for and Buyer's will be less likely to "look" for deficiencies.  Read on for suggestions and potential ROI numbers.
Prepping your house for sale can often require an investment to bring it up to current standards and help it compete in the hot real estate market. Especially if you've lived in the house for several decades, you may be blind to your home's shortcomings. Here, we examine the top home renovations to ensure your return on investment.
PAINT
Painting is probably the most under-appreciated home improvement. It provides a high return for a relatively low investment and minimal effort. When putting your home on the market, consider a professional painter who can help select the right palette, skim the walls, seal trim and repair minor damage before applying top quality paint that's appropriate for each surface (matte for living areas, egg shell or semi-gloss for trims and doors and proper ceiling paint.) It doesn't seem like the most glamorous of renovations, or promise the most dramatic before-and-after, but it instills freshness and can flatter your home in ways you've never imagined. It's like dressing for your body type, a colour expert can help select the perfect shades to work with the lighting in your home and ensure it puts its best face forward!
ROI:
A fresh coat of paint typically garners a
60%
return on your investment.
GOOD 'BONES'
When contemplating a profitable renovation, nothing "sinks" a sale price quicker than a house that's taking on water. Especially in this market, where strong sale prices are being paid for homes with "good bones," ensuring that the roof and windows are in good shape, gutters and drains are functioning properly and the foundation is dry is crucial to realizing the potential value in a home. Consider items like vinyl windows, a new roof or even waterproofing the foundation. Buyers are wise to structural issues, and learning that a homeowner has done their homework and made the proper investments to prevent flooding and leaks will go a long way in a buyer's eyes (and offer!).
ROI:
Renovations that will save home owners money in the long run will draw a higher return, around
75 %
, depending on the scale of the reno.
DOORS & HARDWARE
Investing in new interior doors and hardware; replacing the front door and adding a quality lock-set; and adding baseboard, door trim, crown mouldings and wainscoting are all examples of relatively inexpensive and non-invasive improvements that can immediately punch up the appeal of a home. It really comes down to the quality of the finish though. This is not a time to skimp on materials or workmanship. Hire someone you know and trust, or ask for referrals from friends who you know share similar standards.
ROI:
Smaller projects that have less of a "wow" factor, and may even go unnoticed in an open house, draw a smaller return, around
50%
of your initial investment.
COUNTERTOPS
Since kitchen renovations can easily snowball, consider a quick counter-top refresh and appliance-swap as options for a great return on investment. Instead of shelling out upwards of $25-50,000, expect to pay about $3,000 for a quality stone, like granite or quartz, and between $5-10,000 for quality slide-in or a stand-alone set of kitchen appliances with a pro-look like stainless steel.
ROI:
Kitchen renovations have the best return on investment, typically garnering a
75-100%
return.
BATHROOM
Creating one luxury space in a home can have a great effect and return on investment. Focus your attention to items like a frameless glass shower enclosure, marble-topped vanity or a gorgeous tile backsplash. Analyze your bathroom, pinpoint its strengths and weaknesses and ask yourself, "Where is my eye drawn when I enter this room?" Is the bathtub the focal point? The vanity? A window? This is where your renovations should begin.
ROI:
Bathroom renovations, when done well, have a return of
62%
, on average.
FLOORING
Flooring is the hardest wearing element in any home and for many homeowners, replacing aging flooring is a must. However, the quality of the installation is essential. Expensive hardwood floors can look terrible if they are lifting or there are gaps between planks. While inexpensive laminate from a big box store can look great when laid properly. Carpeting, however, is rarely a good idea, especially when you're planning to sell. While some people love the warmth and feel of carpeting in a bedroom or basement, buyers will see carpet and think one thing: carpet cleaners, STAT! Carpets tend to lovingly hold on to memories of previous homeowners, memories that buyers would sooner rather forget. Spare buyers the cleaning fee, or worse, all-out removal, and skip carpeting, or remove it yourself.
ROI:
Depending on the flooring you choose the return is generally
100-150%
of your investment.
While these are all great suggestions, if you are thinking about selling reach out to your local Realtor for some real insight on what, if anything should be undertaken.  All markets are extremely specific and depending on what the local market is like will depend on what recommendations your Realtor may have.