The holidays and New Year are often a period where we spend more time at home. Time with family and friends. Time relaxing on our phones or around the dinner table, preparing to eventually go back to our regular routines.
If you're like me, you'll have also spent some downtime browsing all the latest condos or houses for sale in Whistler BC! There was definitely a slight lull leading up to Christmas, however the phones are now ringing once again and the emails are flooding in. This week alone we have seen some great new real estate opportunities appear online and I'm hopeful that even more inspiring listings will be available over the next few months. For now, the market remains steady for both buyers and sellers alike.
Read on for an update on 2022's Whistler homes and village.
Record Breaking Snow, Omicron and Fresh Pastries
It's certainly been quite the New Year for residents, homeowners and visitors of Whistler.
Although for some, weeks of knee-deep snow might seem like the stay-at- home-and-hibernate (or shovel!) type of weather, families and adventurers of Whistler have been hitting the slopes with dedication for some of the best skiing and snowboarding conditions reported in years.
Reaching 86cm of snow in just three days over December, residents flocked to enjoy deep mountain powder, build snowmen with their children and visit our local cafes for hot chocolates and fresh pastries. My personal recommendation for anyone new here is a visit to
Purebread Bakery
, where you can find a heavenly display of sticky caramels and whipped fruit creams all wrapped up into cake bars, scones and hot croissants.
Other popular outdoor activities for families and residents included:
Tag Whistler's award-winning
Vallea Lumina
(a must-see multimedia show for all ages)
The outdoor skate rink inside the village
A relaxing day in
Scandinave Spa
Popular stroll around Alta Lake (towards
Nita Lake Lodge
)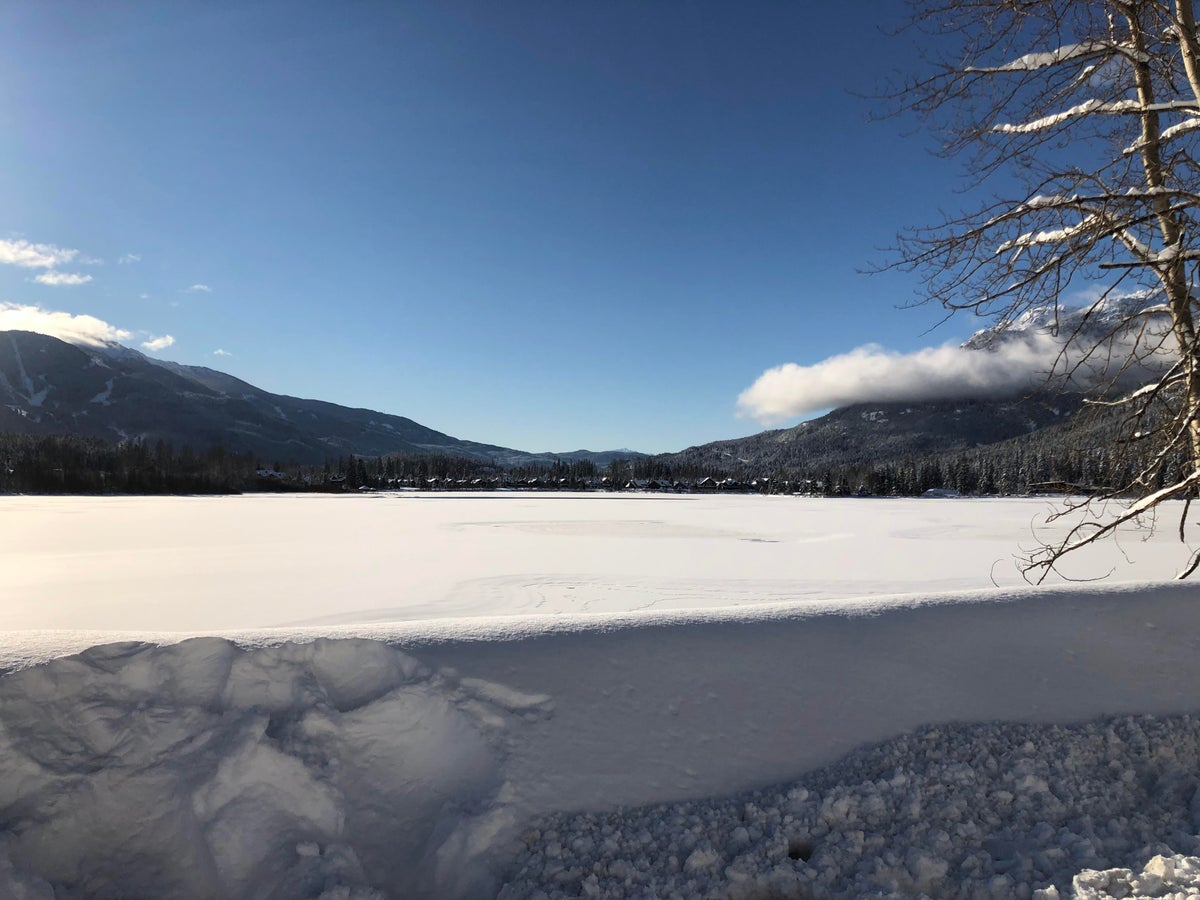 Despite ongoing challenges due to Omicron and a steady increase of staff shortages, Whistler mountain was able to remain open with safety measures and precautions in place. Peak to peak restaurants were (and remain) partially restricted by pre-booking requisites, vaccine passports, seating capacity and limited time frames per table. The village's restaurants and cafes also remained open with similar restrictions, however even with the uncertainties and new regulations of COVID-19, it was amazing to see so many Whistler homes embellished with festive decor, the famous village Christmas lights enchanting all ages, and the buzz of the town keeping the magic of Whistler alive.
Upon speculating what made Whistler so special, I decided to ask a couple of friends and past clients what their favourite thing about living and residing here was. Here's what they said:
"
It's like its own little bubble and community. You have everything you need right here and there's so many amazing things to do. You literally don't ever need to leave."
- Claudia, 28
"
Some of the best skiing in the world, right on your doorstep! It's also super fun for our kids
" - Henry, 42
For me, it's the sense of community, easy access to nature walks and beautiful village square that imparts hours of leisurely browsing.
2022 Housing Assessment Updates for Whistler Homes
BC housing assessments allow homeowners to see how much their property value has increased (or decreased), as well as find additional property information such as year built, floor plans and size.
It's important to note that housing assessment updates are based on sale stats gathered from July the previous year. This means that the property value listed may not total the market value as it currently stands. In fact, BC Assessment Deputy Assessor Bryan Murao recently stated "British Columbia's real estate market remains resilient and that means most property owners can expect higher assessment values for 2022".
If you're wondering about the value of a property or have any questions or concerns about your Whistler home, please reach out to me and I'd be happy to discuss this further with you.
Likewise, if you are thinking about buying or selling a property but feel unsure whether to take the plunge, please don't hesitate to send me an email or give me a call. With everything happening in the world right now, uncertainty is heightened and it's important to me to help my clients in any way I can - whether it's putting their house on the market or offering a reliable soundboard for any questions or concerns. 
Read more about the Whistler real estate process on my last blog post.
With that said, I hope you all had a great (and healthy) New Year and that the potential of 2022's Whistler homes and village have you feeling excited and inspired.